Family Newsletter 2006
2006 Dec 20
Christmas Greetings and a wonderful New Year!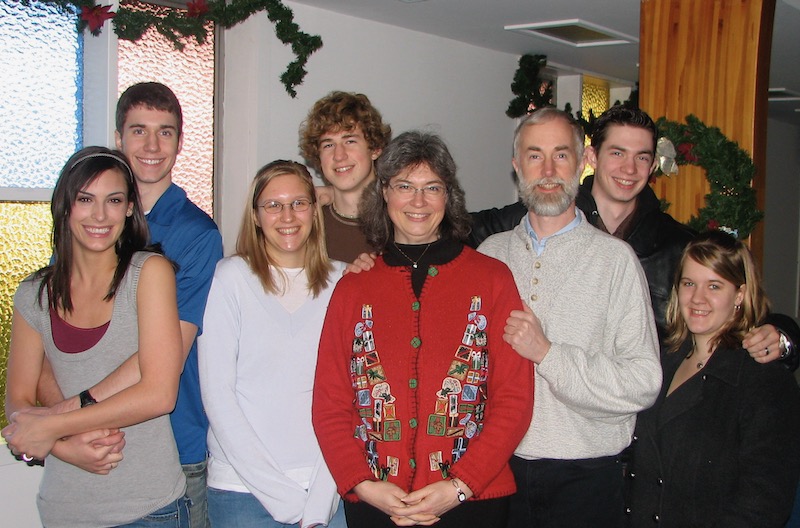 Lindsey, Alan, Jessica, Andrew, Melanie, Larry, Austin, Janae
I don't know why I keep thinking that life will slow down. This year has been another full one.
After Melanie's "cardiac incident" last year, she followed the advice of her doctor and worked steadily to lose weight. The change has been very significant: she feels better, can walk farther and has had to get a new wardrobe! In April our high school band went on a competition trip to Florida. Melanie chaperoned and Alan & Andrew performed. We swept just about all the awards and Melanie had a great time.
Austin & Janae recently celebrated their first wedding anniversary. Austin is still working for Home Depot, and enjoys his job because of the people contact. He consistently does well in sales and recently got a promotion and a raise. Janae is working on her insurance agent certification. It is hard work, but she is almost all the way through the program. She also has her own business raising and selling Persian kittens. A few times a year we get to go over and have fun playing with them.
Alan won first in state with his brass quartet for the second year in a row. He graduated from High School and then went off to Clarkson University in upstate New York to study aeronautical engineering. We miss him when he is gone, although he is home right now for Christmas.
Andrew is a junior in High School. He is working for a pizza shop, and has started to drive. He is our family's most extensive traveler this year. Besides the band trip, he went to Florida to visit his girlfriend's family and went to Young Life's Malibu camp in Canada.
Jessica Eberhardt has joined our family this year. She is from Germany, but also has US citizenship. Our family and hers have a mutual friend and we found through them that Jessi wanted to study in the states. She is the same age as Andrew and they are in the same grade. It is a new experience to have a daughter and we are all enjoying her here.
I traveled to Korea on business this year and was able to take the DMZ tour - very interesting! During the summer, I hiked Three Fingers with a buddy and stayed in the mountaintop fire lookout cabin. And I have nearly completed another house project - a remodel of the old bathroom.